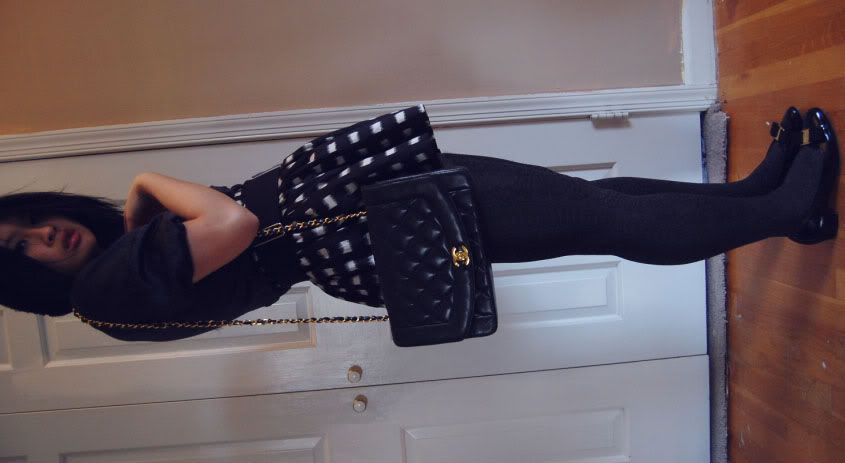 Skirt, Hat: F21, Blouse: Club Monaco, Tights: UO, Belt: Uniqlo, Flats: Vintage Ferragamo, Bag: Vintage Chanel

I woke up 20 minutes late today. This outfit was composed in under 3 minutes. Bleary-eyed, I literally reached for whatever happened to be in my current line of sight. When I finally the chance to look at myself in the school bathroom, my first reaction was: "My god, I look like Blair Waldorf". Good thing I opted on wearing the ubiquitous f21 beanie instead of a waldorf-ish headband, less I look like a full blown gossip girl.

Not that looking like a gossip girl is a bad thing. I admit that one of the only reasons I was so fully captivated with the first season was because of the outrageously lavish clothing that the girls (and guys) got to wear. Sadly, I lost interest in the 2nd season 3 episodes in (though I heard it got really good lately).

I also got a ton of compliments on what I wore today, as opposed to the usual "uh, what are you wearing?/why are you wearing heels?/what in the hell happened to your shirt?!". Again, probably due to the gossip girl resemblance.

Anyway, I pulled these ferragamo flats out of the depths of my closet today. The soles are really worn and slippery. Whilst rushing up the stairs half asleep this morning in attempts to make it to my class on time, I managed to trip on the stairs.

Right in front of my ex.

Doh.

ANYWAY.



I've been tagged by The Stylish Wanderer to divulge to you 6 unimportant things that make me happy. This should be interesting.

Rules:
Shout out those who tagged you.
List 6 unimportant things that make you happy.
State the rules and tag 5 other blogs.
Leave a comment letting the 5 blogs know they have been tagged.
1. I'm obsessed with (microwavable) white castle cheeseburgers. I've never tasted an actual white castle burger though. And I live in New Jersey.
2. I think like this song way too much to be a self-respecting non pre-teen. I also think it's really funny how they had to change the lyrics from "kiss me" to "hold me" to make it more PG. Oh Disney.
3. I like honking/freaking out/road raging at people when they do something dangerous/potentially life threatening on the road (ie. If they dangerously cut me off). It gives me some kind of sick satisfaction/valediction, like "HA, you suck as a driver because you just tried to kill the both of us". I probably won't be laughing when I get into an accident though.
4. I like any and every form of asian noodle. You name it, I like it (pho, udon, jajamyun, pad thai, chow fun, lomain, etc)
5. Shopping online and then getting packages in the mail.
6. Cold Pillows. I
hate
warm/hot pillows.
pictures via google
I tag:
Jen
,
Jaime
,
Starr
,
Susie
,
Gala
and whoever else is interested :)